FAA INFORMATION EFFECTIVE 02 MAY 2013
Location
FAA Identifier:
8U2
Lat/Long:
48-04-46.6000N / 113-14-42.0000W
48-04.776667N / 113-14.700000W
48.0796111 / -113.2450000
(estimated)
Elevation:
4856 ft. / 1480 m (estimated)
Variation:
18E (1985)
From city:
15 miles SE of SCHAFER, MT
Time zone:
UTC -6 (UTC -7 during Standard Time)
Zip code:
59916
Airport Operations
| | |
| --- | --- |
| Airport use: | Open to the public |
| Activation date: | 03/1945 |
| Sectional chart: | GREAT FALLS |
| Control tower: | no |
| ARTCC: | SALT LAKE CITY CENTER |
| FSS: | GREAT FALLS FLIGHT SERVICE STATION |
| NOTAMs facility: | GTF (NOTAM-D service available) |
| Attendance: | UNATNDD |
| Wind indicator: | yes |
| Segmented circle: | no |
Airport Communications
Nearby radio navigation aids
| VOR radial/distance | | VOR name | | Freq | | Var |
| --- | --- | --- | --- | --- | --- | --- |
| FCAr084/38.1 | | KALISPELL VOR/DME | | 113.20 | | 18E |
Airport Services
| | |
| --- | --- |
| Parking: | tiedowns |
| Airframe service: | NONE |
| Powerplant service: | NONE |
| Bottled oxygen: | NONE |
| Bulk oxygen: | NONE |
Runway Information
Runway 7/25
Dimensions:
3200 x 60 ft. / 975 x 18 m
Surface:
turf, in good condition
FIRST 400 FT OF RY 25 IS VERY ROUGH.
FIRST 400 FT RY 25 VERY ROUGH.
Runway edge markings:
RY 07/25 WEST 1400 FT UNMARKED; EAST 1800 FT MARKED WITH WHITE CONES SPACED 200 FT APART.
RUNWAY 7
RUNWAY 25
Latitude:
48-04.764385N
48-04.790493N
Longitude:
113-15.092488W
113-14.307840W
Elevation:
4856.0 ft.
4850.0 ft.
Gradient:
0.5%
0.5%
Traffic pattern:
left
left
Runway heading:
069 magnetic, 087 true
249 magnetic, 267 true
Markings:
NSTD, in good condition
NSTD, in good condition
Obstructions:
90 ft. trees, 161 ft. from runway, 67 ft. left of centerline, 1:1 slope to clear
47 ft. trees, 179 ft. from runway, 120 ft. right of centerline, 3:1 slope to clear
Airport Ownership and Management from official FAA records
Ownership:
Publicly-owned
Owner:
U S FOREST SERVICE
FLATHEAD NATIONAL FOREST
KALISPELL, MT 59901
Phone 406-755-5401
Manager:
DEB MUCKLOW, DIST RANGER
SPOTTED BEAR RANGER STATION
HUNGRY HORSE, MT 59919
Phone 406-758-5376
SUMMER PHONE 406-758-5376.
Airport Operational Statistics
Aircraft operations: avg 46/month *
64%
transient general aviation
36%
air taxi
* for 12-month period ending 13 September 2010
Additional Remarks
| | |
| --- | --- |
| - | LOW AREA NORTH SIDE OF RWY APROX 1100' FROM APP END RWY 25-USE CAUTION. |
| - | WATCH FOR HORSES OR BIG GAME ANIMALS ON RY. |
| - | TAKE OFF AND LAND RY 25 CONDITIONS PERMITTING. |
| - | TREES AND TERRAIN IN TRANS SURFACE BOTH SIDES OF RY FULL LENGTH. |
| - | PRIMARY PURPOSE OF A/S IS A TRAILHEAD FOR WILDERNESS AREAS. |
Instrument Procedures
There are no published instrument procedures at 8U2.

Some nearby airports with instrument procedures:

KGPI - Glacier Park International Airport (43 nm W)
8S1 - Polson Airport (44 nm SW)
KCII - Choteau Airport (46 nm E)
7S0 - Ronan Airport (46 nm SW)
KCTB - Cut Bank Municipal Airport (47 nm NE)



Road maps at: MapQuest MapPoint Yahoo! Maps Google Rand McNally
Satellite photo at: TerraServer Virtual Earth



Aerial photo
WARNING: Photo may not be current or correct

Photo by Mark Andrews
Photo taken 19-Aug-2006
---
Do you have a better or more recent aerial photo of Schafer USFS Airport that you would like to share? If so, please send us your photo.



Sectional chart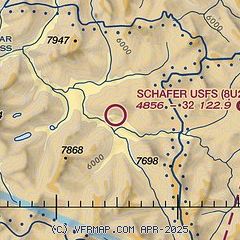 Airport distance calculator
Sunrise and sunset
Times for 19-May-2013
Local
(UTC-6)
Zulu
(UTC)
Morning civil twilight
05:12
11:12
Sunrise
05:50
11:50
Sunset
21:09
03:09
Evening civil twilight
21:47
03:47
Current date and time
| | |
| --- | --- |
| Zulu (UTC) | 19-May-2013 19:29:53 |
| Local (UTC-6) | 19-May-2013 13:29:53 |
METAR
K8S0
32nm N
191855Z 32006KT
KGPI
43nm W
191855Z 16004KT 10SM FEW028 BKN047 OVC060 13/07 A3017 RMK AO2 SLP221 T01280072
7S0
46nm SW
SuperAWOS
191855Z AUTO 08005KT 10SM 13/M10 A3022
KCTB
47nm NE
191856Z AUTO 01017KT 10SM FEW032 OVC042 14/06 A3010 RMK AO2 SLP188 T01440056 TSNO
TAF
KGPI
43nm W
191720Z 1918/2018 16005KT P6SM VCSH BKN023 OVC040 FM192100 21010KT P6SM -SHRA BKN030 OVC060 FM200400 VRB03KT P6SM OVC060
KCTB
47nm NE
191740Z 1918/2018 32010G15KT P6SM VCSH SCT025 OVC040 TEMPO 1922/2002 32010KT 5SM -RA BKN025 OVC040 FM200900 32010G15KT P6SM SCT035 BKN050
NOTAMs
NOTAMs are issued by the DoD/FAA and will open in a separate window not controlled by AirNav.