FAA INFORMATION EFFECTIVE 02 MAY 2013
Location
FAA Identifier:
CL41
Lat/Long:
37-48-08.7400N / 122-16-25.8900W
37-48.145667N / 122-16.431500W
37.8024278 / -122.2738583
(estimated)
Elevation:
110 ft. / 34 m (estimated)
Variation:
16E (1985)
Time zone:
UTC -7 (UTC -8 during Standard Time)
Zip code:
94607
Heliport Operations
| | |
| --- | --- |
| Heliport use: | Private use. Permission required prior to landing |
| Activation date: | 12/1984 |
| Sectional chart: | SAN FRANCISCO |
| Control tower: | no |
| ARTCC: | OAKLAND CENTER |
| FSS: | OAKLAND FLIGHT SERVICE STATION |
| Attendance: | 0600-2200 |
| Wind indicator: | lighted |
| Segmented circle: | no |
| Landing fee: | yes |
Heliport Communications
| | |
| --- | --- |
| UNICOM: | 123.05 |
| WX ASOS at OAK (5 nm SE): | PHONE 510-383-9514 |
| WX ASOS at HWD (11 nm SE): | PHONE 510-786-3052 |
| WX ASOS at SFO (12 nm SW): | PHONE 650-872-0246 |
| WX ASOS at CCR (15 nm NE): | PHONE 925-689-2077 |
| WX AWOS-3P at SQL (17 nm S): | 125.9 (650-593-0613) |
Nearby radio navigation aids
| VOR radial/distance | | VOR name | | Freq | | Var |
| --- | --- | --- | --- | --- | --- | --- |
| OAKr316/5.2 | | OAKLAND VORTAC | | 116.80 | | 17E |
| SFOr006/12.0 | | SAN FRANCISCO VOR/DME | | 115.80 | | 17E |
| SAUr088/12.2 | | SAUSALITO VORTAC | | 116.20 | | 17E |
| CCRr200/18.1 | | CONCORD VOR/DME | | 117.00 | | 17E |
| SGDr151/23.1 | | SCAGGS ISLAND VORTAC | | 112.10 | | 17E |
| OSIr344/24.6 | | WOODSIDE VORTAC | | 113.90 | | 17E |
| SJCr313/30.1 | | SAN JOSE VOR/DME | | 114.10 | | 16E |
| PYEr104/32.7 | | POINT REYES VORTAC | | 113.70 | | 17E |
| TZZr197/(39.2) | | TRAVIS VOR | | 116.40 | | 17E |
NDB name
Hdg/Dist
Freq
Var
ID
TRACY
265/39.9
203
15E
TCY
- -.-. -.--
Heliport Services
Runway Information
Helipad H1
Dimensions:
68 x 68 ft. / 21 x 21 m
ROOFTOP.
Surface:
asphalt
Runway edge lights:
HELIPAD LGTD WITH PERIMETER LGTS.
Operational restrictions:
APCH CRS SOUTH AND EAST. DEP CRS NORTH AND WEST.
Traffic pattern:
left
left
Heliport Ownership and Management from official FAA records
Ownership:
Privately-owned
Owner:
OCCEN CORP/HELICOPTERS UNLTD
10TH ST & BROADWAY
OAKLAND, CA
Phone 415-839-7500
Manager:
JOHN J. MC CLELLAND
PO BOX 4115- AIRPORT STATION
OAKLAND, CA 94614
Phone 415-632-9422
9625 EARHART ROAD.
Additional Remarks
| | |
| --- | --- |
| - | LOCATED WITHIN NAS ALAMEDA A.T.A. |
Instrument Procedures
There are no published instrument procedures at CL41.

Some nearby airports with instrument procedures:

KOAK - Metropolitan Oakland International Airport (5 nm SE)
KHWD - Hayward Executive Airport (11 nm SE)
KSFO - San Francisco International Airport (12 nm SW)
KCCR - Buchanan Field Airport (15 nm NE)
KSQL - San Carlos Airport (17 nm S)



Road maps at: MapQuest MapPoint Yahoo! Maps Google Rand McNally
Satellite photo at: TerraServer Virtual Earth



Aerial photo
Sectional chart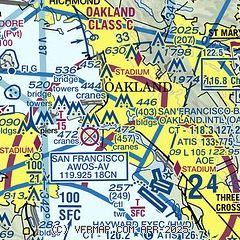 Airport distance calculator
Sunrise and sunset
Times for 19-May-2013
Local
(UTC-7)
Zulu
(UTC)
Morning civil twilight
05:27
12:27
Sunrise
05:57
12:57
Sunset
20:14
03:14
Evening civil twilight
20:44
03:44
Current date and time
| | |
| --- | --- |
| Zulu (UTC) | 19-May-2013 14:09:59 |
| Local (UTC-7) | 19-May-2013 07:09:59 |
METAR
KOAK
7nm SE
191353Z 00000KT 10SM CLR 12/12 A3014 RMK AO2 SLP207 T01220122
KHWD
11nm SE
191354Z 07004KT 10SM CLR 12/09 A3013 RMK AO2 SLP212 T01220089
KSFO
12nm S
191356Z 00000KT 10SM CLR 12/08 A3013 RMK AO2 SLP202 T01170083
KCCR
16nm NE
191353Z 18003KT 10SM CLR 12/08 A3013 RMK AO2 SLP187 T01220083
KSQL
17nm S
191350Z AUTO 00000KT 10SM CLR 12/07 A3014 RMK AO2
TAF
KOAK
7nm SE
191120Z 1912/2018 VRB03KT P6SM SCT015 FM191800 26004KT P6SM SKC FM192100 26015KT P6SM SKC FM200400 28008KT P6SM SKC
KSFO
12nm S
191120Z 1912/2018 28010KT P6SM SCT012 FM192000 28020G26KT P6SM SKC FM200400 28014KT P6SM SKC FM200700 28009KT P6SM FEW012
NOTAMs
NOTAMs are issued by the DoD/FAA and will open in a separate window not controlled by AirNav.