FAA INFORMATION EFFECTIVE 02 MAY 2013
Location
FAA Identifier:
L80
Lat/Long:
34-09-15.0160N / 116-15-08.0340W
34-09.250267N / 116-15.133900W
34.1541711 / -116.2522317
(estimated)
Elevation:
2464 ft. / 751 m (estimated)
Variation:
14E (1985)
From city:
3 miles NE of JOSHUA TREE, CA
Time zone:
UTC -7 (UTC -8 during Standard Time)
Zip code:
92252
Airport Operations
Airport use:
CLOSED INDEFINITELY
Activation date:
04/1968
Sectional chart:
LOS ANGELES
Control tower:
no
ARTCC:
LOS ANGELES CENTER
FSS:
RIVERSIDE FLIGHT SERVICE STATION
NOTAMs facility:
RAL (NOTAM-D service available)
Attendance:
UNATNDD
Pattern altitude:
3464 ft. MSL
Wind indicator:
lighted
Segmented circle:
no
Lights:
ACTVT LIRL RY 06/24 AND ROTG BCN - CTAF.
Beacon:
white-green (lighted land airport)
RDO-CTL
Airport Communications
Nearby radio navigation aids
| VOR radial/distance | | VOR name | | Freq | | Var |
| --- | --- | --- | --- | --- | --- | --- |
| PSPr014/19.2 | | PALM SPRINGS VORTAC | | 115.50 | | 13E |
| TNPr261/24.1 | | TWENTYNINE PALMS VORTAC | | 114.20 | | 15E |
| TRMr339/31.9 | | THERMAL VORTAC | | 116.20 | | 13E |
| HECr150/40.0 | | HECTOR VORTAC | | 112.70 | | 15E |
Airport Services
| | |
| --- | --- |
| Fuel available: | 100LL |
| Parking: | tiedowns |
| Bottled oxygen: | NONE |
| Bulk oxygen: | NONE |
Runway Information
Runway 6/24
Dimensions:
2493 x 50 ft. / 760 x 15 m
Surface:
asphalt, in poor condition
LOOSE ROCKS AND SAND ON RUWNAY
Runway edge lights:
non-standard
LOW DENSITY LIGHTING SYSTEM
Runway edge markings:
NSTD DSPLCD THLD MKGS ARE YELLOW. LEAD-IN ARROWS ARE MISSING.
RUNWAY 6
RUNWAY 24
Latitude:
34-09.232833N
34-09.307667N
Longitude:
116-15.341333W
116-14.855167W
Traffic pattern:
left
left
Displaced threshold:
no
177 ft.
Markings:
basic, in fair condition
NSTD, in fair condition
Runway 12/30
Dimensions:
2355 x 100 ft. / 718 x 30 m
Surface:
asphalt/dirt, in poor condition
ROUGH SURFACE WITH STEEP EDGES AND ABRUPT TRANSITIONS AT ASPHALT / DIRT SECTION IN CENTER OF RUNWAY
SE END 420 FT BY 50 FT ASPH; REMAINDER OF RY DIRT.
RUNWAY 12
RUNWAY 30
Traffic pattern:
left
left
Runway heading:
120 magnetic, 134 true
300 magnetic, 314 true
Displaced threshold:
305 ft.
630 ft.
Obstructions:
15 ft. road, 60 ft. from runway, 75 ft. left of centerline, 4:1 slope to clear
BUSHES RIGHT TO LEFT AT 0 FEET ALONG THE END OF THE RUNWAY
40 ft. pline, 175 ft. from runway, 67 ft. left of centerline, 4:1 slope to clear
BUSHES RIGHT TO LEFT AT 0 FEET ALONG THE END OF THE RUNWAY
Airport Ownership and Management from official FAA records
Ownership:
Privately-owned
Owner:
RICHARDSON FAMILY TRUST
5500 SUNFAIR ROAD HC1 BOX 453
JOSHUA TREE, CA 92252
Phone 760-366-2281
Manager:
PARK RICHARDSON
5500 SUNFAIR ROAD HC1 BOX 453
JOSHUA TREE, CA 92252
Phone 760-366-2281
Airport Operational Statistics
| | | |
| --- | --- | --- |
| Aircraft based on the field: | | 14 |
| Single engine airplanes: | | 11 |
| Ultralights: | | 3 |

Aircraft operations: avg 119/week *
65%
local general aviation
35%
transient general aviation
* for 12-month period ending 23 July 2010
Additional Remarks
| | |
| --- | --- |
| A57-24 | APCH RATIO TO DSPLCD THLD OVER 15 FT ROAD 250 FT FM DSPLCD THLD 148 FT LEFT 17:1. |
| - | RDO CTC RCMDD PRIOR TO LNDG FOR ADZY AND ALTM SETTING. |
| - | UNLGTD MTNS 2-1/2 MI E 3070'MSL AND 3 MI S 3800'MSL. |
| - | ARPT ADZY MANDATORY FOR NIGHT LNDG. |
| - | (ARPT STATUS) ARPT CLSD INDEFLY. |
| A58-24 | +15 FT ROAD 100 FT FM THLD. |
Instrument Procedures
There are no published instrument procedures at L80.

Some nearby airports with instrument procedures:

KNXP - Twentynine Palms SELF Airport (10 nm NE)
KTNP - Twentynine Palms Airport (15 nm E)
KPSP - Palm Springs International Airport (23 nm SW)
KUDD - Bermuda Dunes Airport (24 nm S)
L35 - Big Bear City Airport (31 nm W)



Road maps at: MapQuest MapPoint Yahoo! Maps Google Rand McNally
Satellite photo at: TerraServer Virtual Earth



Aerial photo
WARNING: Photo may not be current or correct

---
Do you have a better or more recent aerial photo of Roy Williams Airport that you would like to share? If so, please send us your photo.



Sectional chart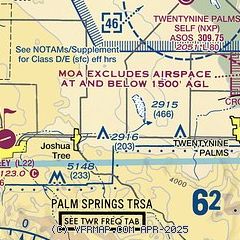 Airport distance calculator
Sunrise and sunset
Times for 18-May-2013
Local
(UTC-7)
Zulu
(UTC)
Morning civil twilight
05:14
12:14
Sunrise
05:42
12:42
Sunset
19:41
02:41
Evening civil twilight
20:09
03:09
Current date and time
| | |
| --- | --- |
| Zulu (UTC) | 19-May-2013 02:32:05 |
| Local (UTC-7) | 18-May-2013 19:32:05 |
METAR
KNXP
9nm NE
190056Z AUTO 28013G18KT 10SM CLR 31/M02 A2992 RMK AO2 SLP096 T03111022
KTNP
15nm E
SuperAWOS
190155Z AUTO 27007KT 10SM 31/M01 A2992
TAF
KNXP
9nm NE
1821/1921 33010G17KT 9999 SKC QNH2989INS BECMG 1902/1904 31015G22KT QNH2990INS TEMPO 1917/1921 35007KT AUTOMATED SENSOR METWATCH 1821 TIL 2015 T29/1822Z T17/1913Z
NOTAMs
NOTAMs are issued by the DoD/FAA and will open in a separate window not controlled by AirNav.