FAA INFORMATION EFFECTIVE 02 MAY 2013
Location
FAA Identifier:
TS10
Lat/Long:
30-06-04.7640N / 094-07-51.6500W
30-06.079400N / 094-07.860833W
30.1013233 / -94.1310139
(estimated)
Elevation:
25 ft. / 8 m (estimated)
Variation:
05E (1985)
Time zone:
UTC -5 (UTC -6 during Standard Time)
Zip code:
77703
Heliport Operations
Heliport use:
Private use. Permission required prior to landing
Activation date:
12/1983
Sectional chart:
HOUSTON
Control tower:
no
ARTCC:
HOUSTON CENTER
FSS:
MONTGOMERY COUNTY FLIGHT SERVICE STATION
FOR FP FILING CALL CXO FSS 1-800-833-5602.
Attendance:
UNATNDD
Segmented circle:
no
Heliport Communications
| | |
| --- | --- |
| WX AWOS-3PT at BMT (5 nm SW): | 118.425 (409-866-2832) |
| WX ASOS at BPT (11 nm SE): | PHONE 409-722-3408 |
| WX AWOS-3 at ORG (17 nm E): | 118.975 (409-670-9591) |
Nearby radio navigation aids
| VOR radial/distance | | VOR name | | Freq | | Var |
| --- | --- | --- | --- | --- | --- | --- |
| BPTr320/11.1 | | BEAUMONT VOR/DME | | 114.50 | | 07E |
| SBIr342/25.3 | | SABINE PASS VOR/DME | | 115.40 | | 07E |
| DASr096/27.2 | | DAISETTA VORTAC | | 116.90 | | 05E |
NDB name
Hdg/Dist
Freq
Var
ID
GOODHUE
059/4.5
368
07E
GDE
--. -.. .
HARDIN COUNTY
151/15.6
524
04E
HRD
.... .-. -..
ORANGE
271/17.5
211
05E
ORG
--- .-. --.
SULPHUR
257/37.3
278
04E
AUR
.- ..- .-.
DE QUINCY
238/39.8
410
02E
DQU
-.. --.- ..-
Heliport Services
Runway Information
Helipad H1
Dimensions:
60 x 60 ft. / 18 x 18 m
Surface:
concrete
Traffic pattern:
left
left
Obstructions:
pline
PLINE EAST; SIGN SE; POLES SOUTH.
Heliport Ownership and Management from official FAA records
Ownership:
Privately-owned
Owner:
SPINDLETOP ENTERPRISES, INC.
2525 N 11TH ST
BEAUMONT, TX 77703
Phone 409-898-8570
Manager:
JACK HERZIK
2525 N 11TH ST
BEAUMONT, TX 77703
Phone 409-898-8570
Instrument Procedures
There are no published instrument procedures at TS10.

Some nearby airports with instrument procedures:

KBMT - Beaumont Municipal Airport (5 nm SW)
KBPT - Jack Brooks Regional Airport (11 nm SE)
45R - Hawthorne Field Airport (16 nm NW)
KORG - Orange County Airport (17 nm E)
T78 - Liberty Municipal Airport (29 nm W)



Road maps at: MapQuest MapPoint Yahoo! Maps Google Rand McNally
Satellite photo at: TerraServer Virtual Earth



Aerial photo
Sectional chart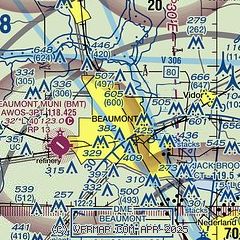 Airport distance calculator
Sunrise and sunset
Times for 18-May-2013
Local
(UTC-5)
Zulu
(UTC)
Morning civil twilight
05:56
10:56
Sunrise
06:22
11:22
Sunset
20:04
01:04
Evening civil twilight
20:30
01:30
Current date and time
| | |
| --- | --- |
| Zulu (UTC) | 18-May-2013 18:02:47 |
| Local (UTC-5) | 18-May-2013 13:02:47 |
METAR
KBMT
5nm SW
181715Z AUTO 17009G16KT 10SM CLR 30/21 A3000 RMK AO2 T02950205
KBPT
10nm SE
181653Z 16011KT 10SM FEW035 28/22 A3000 RMK AO2 SLP159 T02830217
KORG
17nm E
181715Z AUTO 17011KT 10SM CLR 27/21 A3003 RMK AO2 T02720213
TAF
KBPT
10nm SE
181720Z 1818/1918 16009KT P6SM FEW035 FM190300 17009KT P6SM BKN025
NOTAMs
NOTAMs are issued by the DoD/FAA and will open in a separate window not controlled by AirNav.