FAA INFORMATION EFFECTIVE 02 MAY 2013
Location
FAA Identifier:
2R2
Lat/Long:
39-44-48.4000N / 086-28-30.6000W
39-44.806667N / 086-28.510000W
39.7467778 / -86.4751667
(estimated)
Elevation:
898 ft. / 273.7 m (surveyed)
Variation:
03W (1965)
From city:
13 miles W of INDIANAPOLIS, IN
Time zone:
UTC -4 (UTC -5 during Standard Time)
Zip code:
46122
Airport Operations
| | |
| --- | --- |
| Airport use: | Open to the public |
| Activation date: | 11/2001 |
| Sectional chart: | ST LOUIS |
| Control tower: | no |
| ARTCC: | INDIANAPOLIS CENTER |
| FSS: | TERRE HAUTE FLIGHT SERVICE STATION |
| NOTAMs facility: | HUF (NOTAM-D service available) |
| Attendance: | MON-FRI 0800-1700 |
| Wind indicator: | lighted |
| Segmented circle: | yes |
| Lights: | MIRL RY 18/36 PRESET ON LOW INTST TO INCR INTST ACTVT - CTAF. |
| Beacon: | white-green (lighted land airport) |
Airport Communications
| | |
| --- | --- |
| CTAF/UNICOM: | 122.7 |
| WX AWOS-3: | 118.025 (317-718-4872) |
| INDIANAPOLIS APPROACH: | 121.1 |
| INDIANAPOLIS DEPARTURE: | 119.05 |
| WX ASOS at IND (9 nm E): | PHONE 317-241-0348 |
| WX ASOS at EYE (10 nm NE): | 121.575 (317-329-1754) |
| WX AWOS-3 at 8A4 (15 nm E): | 118.250 (317-955-3160) |
| WX AWOS-3 at 4I7 (17 nm SW): | 118.125 (765-653-1789) |
| WX AWOS-3 at HFY (19 nm E): | 118.525 (317-882-5862) |
| WX AWOS-3 at TYQ (20 nm NE): | 120.725 (317-769-3154) |
Nearby radio navigation aids
| VOR radial/distance | | VOR name | | Freq | | Var |
| --- | --- | --- | --- | --- | --- | --- |
| VHPr230/6.4 | | BRICKYARD VORTAC | | 116.30 | | 01E |
| SHBr282/30.8 | | SHELBYVILLE VORTAC | | 112.00 | | 01E |
| OOMr012/36.7 | | HOOSIER VORTAC | | 110.20 | | 02W |
| TTHr065/39.0 | | TERRE HAUTE VORTAC | | 115.30 | | 02E |
Airport Services
| | |
| --- | --- |
| Fuel available: | 100LL |
| Parking: | tiedowns |
Runway Information
Runway 18/36
Dimensions:
4400 x 100 ft. / 1341 x 30 m
Surface:
asphalt, in good condition
Runway edge lights:
medium intensity
Gradient:
N.
RUNWAY 18
RUNWAY 36
Latitude:
39-45.169695N
39-44.445243N
Longitude:
086-28.506875W
086-28.513573W
Elevation:
897.8 ft.
864.3 ft.
Gradient:
0.8% UP
Traffic pattern:
left
left
Runway heading:
183 magnetic, 180 true
003 magnetic, 000 true
Markings:
nonprecision, in good condition
nonprecision, in good condition
Visual slope indicator:
2-light PAPI on left (3.00 degrees glide path)
2-light PAPI on left (3.00 degrees glide path)
Runway end identifier lights:
yes
yes
Touchdown point:
yes, no lights
yes, no lights
Obstructions:
33 ft. trees, 1420 ft. from runway, 37:1 slope to clear
APCH SLOPE 43:1 AT THLD.
25 ft. pline, lighted, 726 ft. from runway, 230 ft. left of centerline, 21:1 slope to clear
Airport Ownership and Management from official FAA records
Ownership:
Publicly-owned
Owner:
INDIANAPOLIS AIRPORT AUTHORITY
7800 COL. H. WEIR COOK MEMORIAL DR., SUITE 100
INDIANAPOLIS, IN 46241
Phone 317-487-5024
Manager:
MICHAEL MEDVESCEK
7800 COL. H. WEIR COOK MEMORIAL DR., SUITE 100
INDIANAPOLIS, IN 46241
Phone 317-487-5024
Airport Operational Statistics
| | | |
| --- | --- | --- |
| Aircraft based on the field: | | 44 |
| Single engine airplanes: | | 41 |
| Multi engine airplanes: | | 3 |

Aircraft operations: avg 49/day *
50%
local general aviation
44%
transient general aviation
4%
military
2%
air taxi
* for 12-month period ending 31 December 2010
Instrument Procedures
NOTE: All procedures below are presented as PDF files. If you need a reader for these files, you should download the free Adobe Reader.

NOT FOR NAVIGATION. Please procure official charts for flight.
FAA instrument procedures published for use between 2 May 2013 at 0901Z and 30 May 2013 at 0900Z.

IAPs - Instrument Approach Procedures
RNAV (GPS) RWY 18 **CHANGED**
download (182KB)
Other nearby airports with instrument procedures:

KIND - Indianapolis International Airport (9 nm E)
KEYE - Eagle Creek Airpark (10 nm NE)
8A4 - Indianapolis Downtown Heliport (15 nm E)
4I7 - Putnam County Airport (17 nm SW)
KHFY - Greenwood Municipal Airport (19 nm E)
KTYQ - Indianapolis Executive Airport (20 nm NE)



Road maps at: MapQuest MapPoint Yahoo! Maps Google Rand McNally
Satellite photo at: TerraServer Virtual Earth



Aerial photo
WARNING: Photo may not be current or correct

Taken in August 2005
---
Do you have a better or more recent aerial photo of Hendricks County Airport-Gordon Graham Field that you would like to share? If so, please send us your photo.



Sectional chart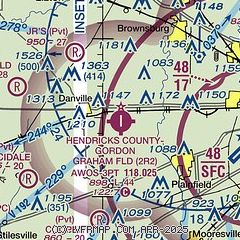 Airport distance calculator
Sunrise and sunset
Times for 18-May-2013
Local
(UTC-4)
Zulu
(UTC)
Morning civil twilight
05:59
09:59
Sunrise
06:30
10:30
Sunset
20:55
00:55
Evening civil twilight
21:26
01:26
Current date and time
| | |
| --- | --- |
| Zulu (UTC) | 18-May-2013 12:22:00 |
| Local (UTC-4) | 18-May-2013 08:22:00 |
METAR
KIND
9nm E
181131Z 05004KT 2 1/2SM BR BKN007 OVC055 18/17 A3005 RMK AO2
KEYE
10nm NE
181153Z AUTO 07005KT 3SM BR OVC060 18/17 A3006 RMK AO2 SLP175 70046 T01780172 10183 20172 53012
KTYQ
20nm NE
181155Z AUTO 06005KT 2SM BR SCT028 OVC060 18/16 A3008 RMK AO2 7//// T01770160 10188 20164
TAF
KIND
9nm E
181137Z 1812/1918 09004KT 4SM BR SCT007 OVC060 TEMPO 1812/1814 2SM BR BKN007 FM181400 09005KT P6SM VCSH FEW040 OVC080 FM181600 10007KT P6SM VCTS BKN040CB FM190100 12004KT P6SM BKN100 FM190700 13003KT 4SM BR SCT010 FM191500 13005KT 6SM HZ BKN250
NOTAMs
NOTAMs are issued by the DoD/FAA and will open in a separate window not controlled by AirNav.