FAA INFORMATION EFFECTIVE 02 MAY 2013
Location
FAA Identifier:
WBW
Lat/Long:
41-17-50.3068N / 075-51-08.0659W
41-17.838447N / 075-51.134432W
41.2973074 / -75.8522405
(estimated)
Elevation:
543.3 ft. / 165.6 m (surveyed)
Variation:
12W (1990)
From city:
3 miles N of WILKES-BARRE, PA
Time zone:
UTC -4 (UTC -5 during Standard Time)
Zip code:
18644
Airport Operations
Airport use:
Open to the public
Sectional chart:
NEW YORK
Control tower:
no
ARTCC:
NEW YORK CENTER
FSS:
WILLIAMSPORT FLIGHT SERVICE STATION
NOTAMs facility:
IPT (NOTAM-D service available)
Attendance:
0800-1700
Wind indicator:
yes
Segmented circle:
yes
Lights:
ACTVT MIRL RY 07/25, PAPI RYS 07 & 25, REIL RYS 07 & 25, ROTG BCN - CTAF RY 07/25 PRESET LOW INTST, TO ACTVT HIGHER INTST - CTAF.
Beacon:
white-green (lighted land airport)
RDO-CTL
Airport Communications
| | |
| --- | --- |
| CTAF/UNICOM: | 122.8 |
| WILKES-BARRE APPROACH: | 126.3 |
| WILKES-BARRE DEPARTURE: | 126.3 |
| WX ASOS at AVP (6 nm NE): | PHONE 570-655-0748 |
| WX AWOS-3 at HZL (20 nm S): | 119.975 (570-459-4901) |
Nearby radio navigation aids
| VOR radial/distance | | VOR name | | Freq | | Var |
| --- | --- | --- | --- | --- | --- | --- |
| LVZr291/7.5 | | WILKES-BARRE VORTAC | | 111.60 | | 10W |
| LHYr247/19.8 | | LAKE HENRY VORTAC | | 110.80 | | 10W |
| HZLr042/(22.9) | | HAZLETON VOR | | 109.40 | | 09W |
| FJCr342/38.7 | | ALLENTOWN VORTAC | | 117.50 | | 10W |
NDB name
Hdg/Dist
Freq
Var
ID
CRYSTAL LAKE
001/5.3
410
11W
CYE
-.-. -.-- .
HUMBOLT
029/19.6
366
10W
HXM
.... -..- --
CARBON
004/29.4
339
12W
LQX
.-.. --.- -..-
PICTURE ROCKS
097/38.7
344
09W
PIX
.--. .. -..-
Airport Services
| | |
| --- | --- |
| Fuel available: | 100LL JET-A |
| Parking: | hangars and tiedowns |
| Airframe service: | MAJOR |
| Powerplant service: | MAJOR |
| Bottled oxygen: | NONE |
| Bulk oxygen: | NONE |
Runway Information
Runway 7/25
Dimensions:
3375 x 75 ft. / 1029 x 23 m
Surface:
asphalt, in good condition
Runway edge lights:
medium intensity
RUNWAY 7
RUNWAY 25
Latitude:
41-17.665540N
41-17.995338N
Longitude:
075-51.369000W
075-50.775847W
Elevation:
542.9 ft.
542.1 ft.
Traffic pattern:
left
left
Runway heading:
066 magnetic, 054 true
246 magnetic, 234 true
Markings:
nonprecision, in good condition
nonprecision, in good condition
Visual slope indicator:
2-light PAPI on left (4.00 degrees glide path)
2-light PAPI on left (3.75 degrees glide path)
Runway end identifier lights:
yes
RY 07 REIL OTS INDEFLY.
yes
RY 25 REIL OTS INDEFLY.
Touchdown point:
yes, no lights
yes, no lights
Obstructions:
105 ft. trees, 1962 ft. from runway, 346 ft. left of centerline, 16:1 slope to clear
53 ft. trees, 1087 ft. from runway, 291 ft. left of centerline, 16:1 slope to clear
Runway 9/27
Dimensions:
2191 x 100 ft. / 668 x 30 m
Surface:
asphalt/turf, in good condition
FIRST 544 FT RY 27 ASPH; REMAINDER TURF .
Runway edge markings:
RWY 09/27 MKD WITH WHITE 3' CONES RWY 09 DSPLCD THLD MKD WITH THREE WHITE CONES EACH SIDE.
Operational restrictions:
RY 09/27 CLSD DURING WINTER MONTHS.
RUNWAY 9
RUNWAY 27
Latitude:
41-17.810672N
41-17.890895N
Longitude:
075-51.463148W
075-50.996752W
Elevation:
541.4 ft.
542.5 ft.
Gradient:
0.1%
0.1%
Traffic pattern:
left
left
Displaced threshold:
669 ft.
no
Markings:
, in good condition
, in good condition
Touchdown point:
yes, no lights
yes, no lights
Obstructions:
93 ft. trees, 1148 ft. from runway, 20 ft. left of centerline, 12:1 slope to clear
APCH RATIO 19:1 TO DSPLCD THLD.
none
Airport Ownership and Management from official FAA records
Ownership:
Publicly-owned
Owner:
COUNTY OF LUZERNE
200 N. RIVER ST.
WILKES-BARRE, PA 18071
Phone 570-825-1600
Manager:
JIM SCROBOLA
2001 WYOMING AVE
FORTY FORT, PA 18704
Phone 570-288-3257
Airport Operational Statistics
| | | |
| --- | --- | --- |
| Aircraft based on the field: | | 51 |
| Single engine airplanes: | | 50 |
| Multi engine airplanes: | | 1 |

Aircraft operations: avg 69/day *
84%
local general aviation
16%
transient general aviation
<1%
military
<1%
air taxi
* for 12-month period ending 16 October 2012
Additional Remarks
| | |
| --- | --- |
| - | HIGH TRANSMISSION LINES +152 FT; 6000 FT FM RY 25 THLD 585 FT L MKD WITH RED SPHERES. |
Instrument Procedures
NOTE: All procedures below are presented as PDF files. If you need a reader for these files, you should download the free Adobe Reader.

NOT FOR NAVIGATION. Please procure official charts for flight.
FAA instrument procedures published for use between 2 May 2013 at 0901Z and 30 May 2013 at 0900Z.

IAPs - Instrument Approach Procedures
RNAV (GPS) RWY 07
download (214KB)
RNAV (GPS) RWY 25
download (237KB)
Other nearby airports with instrument procedures:

KAVP - Wilkes-Barre/Scranton International Airport (6 nm NE)
9N3 - Seamans Field Airport (18 nm N)
KHZL - Hazleton Municipal Airport (20 nm S)
70N - Spring Hill Airport (20 nm E)
KMPO - Pocono Mountains Municipal Airport (23 nm SE)



Road maps at: MapQuest MapPoint Yahoo! Maps Google Rand McNally
Satellite photo at: TerraServer Virtual Earth



Aerial photo
WARNING: Photo may not be current or correct

Photo by Karl Rittinger
Photo taken 10-May-2011
looking east.
---
Do you have a better or more recent aerial photo of Wilkes-Barre Wyoming Valley Airport that you would like to share? If so, please send us your photo.



Sectional chart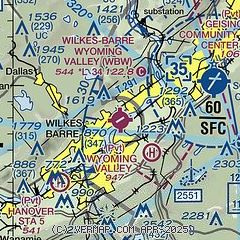 Airport distance calculator
Sunrise and sunset
Times for 19-May-2013
Local
(UTC-4)
Zulu
(UTC)
Morning civil twilight
05:10
09:10
Sunrise
05:42
09:42
Sunset
20:18
00:18
Evening civil twilight
20:50
00:50
Current date and time
| | |
| --- | --- |
| Zulu (UTC) | 19-May-2013 19:37:28 |
| Local (UTC-4) | 19-May-2013 15:37:28 |
METAR
KAVP
6nm E
190654Z 00000KT 10SM OVC014 14/11 A3022
TAF
KAVP
6nm E
191741Z 1918/2018 VRB04KT P6SM OVC012 TEMPO 2009/2013 5SM BR OVC008 FM201500 23005KT P6SM OVC022 AMD NOT SKED
NOTAMs
NOTAMs are issued by the DoD/FAA and will open in a separate window not controlled by AirNav.