FAA INFORMATION EFFECTIVE 02 MAY 2013
Location
FAA Identifier:
BLI
Lat/Long:
48-47-33.7000N / 122-32-15.1000W
48-47.561667N / 122-32.251667W
48.7926944 / -122.5375278
(estimated)
Elevation:
170 ft. / 51.8 m (surveyed)
Variation:
20E (1995)
From city:
3 miles NW of BELLINGHAM, WA
Time zone:
UTC -7 (UTC -8 during Standard Time)
Zip code:
98226
Airport Operations
Airport use:
Open to the public
Activation date:
11/1938
Sectional chart:
SEATTLE
Control tower:
yes
ARTCC:
VANCOUVER CENTER
FSS:
SEATTLE FLIGHT SERVICE STATION
NOTAMs facility:
BLI (NOTAM-D service available)
Attendance:
CONTINUOUS
Pattern altitude:
1200 ft. MSL
TPA 1030 FT AGL FIXED WING; 530 FT AGL HELICOPTER; 1830 FT AGL TURBO.
Wind indicator:
lighted
Segmented circle:
yes
Lights:
WHEN ATCT CLSD ACTVT HIRL RY 16/34, MALSR RY 16, REIL RY 34 - CTAF.
Beacon:
white-green (lighted land airport)
Operates sunset to sunrise.
Landing fee:
yes, OVER 7500 LBS.
Fire and rescue:
ARFF index C
Airline operations:
PPR FOR UNSKED ACR OPNS WITH MORE THAN 30 PSGR SEATS CALL AMGR 360-671-5674. ARFF INDEX C 0600-2200.
International operations:
international airport of entry
Airport Communications
| | |
| --- | --- |
| CTAF: | 124.9 |
| UNICOM: | 122.95 |
| ATIS: | 134.45 |
| WX ASOS: | PHONE 360-671-8688 |
| BELLINGHAM GROUND: | 127.4 379.3 [0700-2230] |
| BELLINGHAM TOWER: | 124.9 379.3 [0700-2230] |
| VICTORIA TERMINAL APPROACH: | 132.7 |
| VICTORIA TERMINAL DEPARTURE: | 132.7 |
| WX AWOS-3 at ORS (16 nm W): | 135.425 (360-376-6045) |
| WX AWOS-3 at BVS (20 nm S): | 121.125 (360-757-7767) |
APCH/DEP SVC PRVDD BY VICTORIA TERMINAL ON FREQS 132.7/290.8. (604) 586-4560
Nearby radio navigation aids
| VOR radial/distance | | VOR name | | Freq | | Var |
| --- | --- | --- | --- | --- | --- | --- |
| HUHr150/9.3 | | WHATCOM VORTAC | | 113.00 | | 20E |
| YVRr108/29.5 | | VANCOUVER VOR/DME | | 115.90 | | 17E |
| CVVr354/33.7 | | PENN COVE VOR/DME | | 117.20 | | 19E |
| YYJr067/37.7 | | VICTORIA VOR/DME | | 113.70 | | 17E |
Airport Services
| | |
| --- | --- |
| Fuel available: | 100LL JET-A |
| Parking: | tiedowns |
| Airframe service: | NONE |
| Powerplant service: | MAJOR |
| Bottled oxygen: | HIGH/LOW |
| Bulk oxygen: | NONE |
Runway Information
Runway 16/34
Dimensions:
6701 x 150 ft. / 2042 x 46 m
Surface:
asphalt/grooved, in good condition
Weight bearing capacity:

| | |
| --- | --- |
| Single wheel: | 75.0 |
| Double wheel: | 160.0 |
| Double tandem: | 250.0 |

Runway edge lights:
high intensity
RUNWAY 16
RUNWAY 34
Latitude:
48-48.112492N
48-47.010542N
Longitude:
122-32.253322W
122-32.248868W
Elevation:
162.5 ft.
170.1 ft.
Gradient:
0.2%
0.2%
Traffic pattern:
right
left
Runway heading:
160 magnetic, 180 true
340 magnetic, 360 true
Declared distances:
TORA:6701 TODA:6701 ASDA:6701 LDA:6701
TORA:6701 TODA:6701 ASDA:6701 LDA:6701
Markings:
precision, in good condition
nonprecision, in good condition
Visual slope indicator:
4-light PAPI on left (3.00 degrees glide path)
4-light PAPI on left (3.00 degrees glide path)
RVR equipment:
touchdown
Approach lights:
MALSR: 1,400 foot medium intensity approach lighting system with runway alignment indicator lights
Runway end identifier lights:
yes
Touchdown point:
yes, no lights
yes, no lights
Instrument approach:
ILS/DME
MLS
Obstructions:
none
54 ft. tree, 1400 ft. from runway, 100 ft. left of centerline, 22:1 slope to clear
Airport Ownership and Management from official FAA records
Ownership:
Publicly-owned
Owner:
PORT OF BELLINGHAM
1801 ROEDER AVE
BELLINGHAM, WA 98227
Phone 360-676-2500
Manager:
MARK LEUTWILER
4255 MITCHELL WAY STE 206
BELLINGHAM, WA 98226
Phone 360-671-5674
Airport Operational Statistics
| | | |
| --- | --- | --- |
| Aircraft based on the field: | | 186 |
| Single engine airplanes: | | 166 |
| Multi engine airplanes: | | 8 |
| Jet airplanes: | | 5 |
| Helicopters: | | 7 |

Aircraft operations: avg 187/day *
40%
transient general aviation
28%
local general aviation
17%
air taxi
14%
commercial
2%
military
* for 12-month period ending 31 December 2012
Additional Remarks
| | |
| --- | --- |
| - | BIRDS ON & INVOF ARPT. |
| - | COMMERCIAL RAMP CLSD TO PVT ACFT. |
| - | AIR CARRIER OPS USE TWY A, TWY B, TWY E, TWY G, TWY H, AND TWY D EAST OF TWY A TO TWY E. |
| - | ATCT SVC NOT AVBL AT TWY A INVOF TWY G; THE SOUTH HOLD AREA & THE RUNUP AREA DUE TO OBSTRUCTED VISION. |
| - | NOISE ABATEMENT PROCEDURES IN EFFECT CTC AMGR AT 360-671-5674. |
Instrument Procedures
NOTE: All procedures below are presented as PDF files. If you need a reader for these files, you should download the free Adobe Reader.

NOT FOR NAVIGATION. Please procure official charts for flight.
FAA instrument procedures published for use between 2 May 2013 at 0901Z and 30 May 2013 at 0900Z.

STARs - Standard Terminal Arrivals
MADEE TWO (RNAV) **NEW**
download (183KB)

IAPs - Instrument Approach Procedures
ILS OR LOC RWY 16
download (296KB)
ILS RWY 16 (SA CAT I) **CHANGED**
download (218KB)
RNAV (RNP) Z RWY 16
download (207KB)
RNAV (RNP) Z RWY 34
download (217KB)
RNAV (GPS) Y RWY 16
download (224KB)
RNAV (GPS) Y RWY 34
download (247KB)
NOTE: Special Alternate Minimums apply
download (56KB)

Departure Procedures
KIENO FOUR
download (267KB)
Other nearby airports with instrument procedures:

KORS - Orcas Island Airport (16 nm W)
KBVS - Skagit Regional Airport (20 nm S)
KFHR - Friday Harbor Airport (25 nm SW)
KNUW - Whidbey Island Naval Air Station (Ault Field) (27 nm S)
KOKH - AJ Eisenberg Airport (33 nm S)



Road maps at: MapQuest MapPoint Yahoo! Maps Google Rand McNally
Satellite photo at: TerraServer Virtual Earth



Aerial photo
WARNING: Photo may not be current or correct

Taken in April 2008
---
Do you have a better or more recent aerial photo of Bellingham International Airport that you would like to share? If so, please send us your photo.



Sectional chart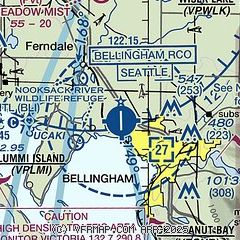 CAUTION: Diagram may not be current

Download PDF
of official airport diagram from the FAA
Airport distance calculator
Sunrise and sunset
Times for 18-May-2013
Local
(UTC-7)
Zulu
(UTC)
Morning civil twilight
04:47
11:47
Sunrise
05:26
12:26
Sunset
20:48
03:48
Evening civil twilight
21:26
04:26
Current date and time
| | |
| --- | --- |
| Zulu (UTC) | 18-May-2013 11:25:28 |
| Local (UTC-7) | 18-May-2013 04:25:28 |
METAR
KBLI
181053Z AUTO 17005KT 10SM -RA OVC045 11/09 A3006 RMK AO2 RAB38 SLP185 P0000 T01110094
CYXX
15nm NE
181000Z VRB02KT 10SM OVC035 11/10 A3005 RMK SC8 SLP177
KORS
15nm W
181055Z AUTO 18004KT 8SM -RA OVC048 10/10 A3004 RMK AO2
CWWK
16nm NW
181000Z AUTO 15002KT 12/11 RMK AO1 2PAST HR 1001 SLP183 P0001 T01220106 50004
CWEZ
20nm W
181000Z AUTO 24009KT 11/10 RMK AO1 SLP174 T01080095 53002
TAF
KBLI
180523Z 1806/1906 17006KT P6SM BKN050 FM181000 16008KT P6SM BKN040 OVC100 FM181600 18012KT P6SM -RA OVC040 FM182300 20008KT P6SM -SHRA BKN040
CYXX
15nm NE
180538Z 1806/1906 VRB03KT P6SM BKN040 TEMPO 1806/1810 5SM -SHRA BR BKN020 OVC040 FM181000 VRB03KT P6SM FEW007 SCT020 OVC050 TEMPO 1810/1818 4SM -SHRA BR BKN007 OVC020 FM181800 22007KT P6SM -SHRA SCT020 OVC040 TEMPO 1818/1821 5SM -SHRA BR BKN020 OVC040 FM190300 VRB03KT P6SM BKN030 RMK NXT FCST BY 181200Z
NOTAMs
NOTAMs are issued by the DoD/FAA and will open in a separate window not controlled by AirNav.